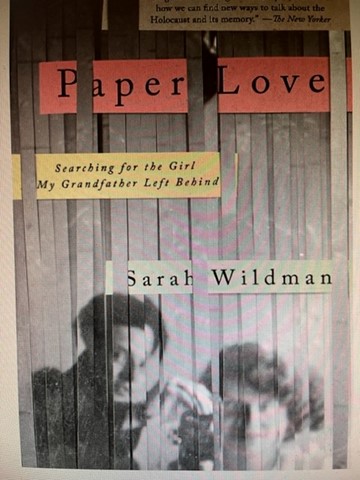 Publication Date:  October 13, 2015
Print Length: 400 pages
SYNOPSIS
Years after her grandfather died, Sarah Wildman finds a cache of letters from the Jewish relatives, friends, and colleagues he left behind when he escaped from Austria six months before it was annexed by the Nazis. Among the correspondence, Sarah also discovers letters from Valerie Scheftel, the woman her grandmother identified as her grandfather's "true love."
Committed to discovering Valy's fate, Wildman travels to Vienna, Berlin, London, Poland, Israel, and the Czech Republic, to determine whether her grandfather's former girlfriend survived the Holocaust.
Wildman's account underscores how difficult it is to recover the past as she searches through archives and interviews Holocaust researchers. In the process, she creates a compelling account of the desperate efforts made by Valy and other Jews as their options for escape slowly disappeared.
REVIEWS AND AUTHOR INFORMATION
NPR Staff, "Box of love letters reveals grandfather didn't escape WWII with 'everyone.'" NPR, November 25, 2014. https://www.npr.org/2014/11/25/366544685/box-of-love-letters-reveals-grandfather-didnt-escape-wwii-with-everyone.
Rheins, Carl, "Paper Love: Searching for the Girl My Grandfather Left Behind." Jewish Book Council, October 27, 2014. https://www.jewishbookcouncil.org/book/paper-love-searching-for-the-girl-my-grandfather-left-behind.
Wildman, Sarah, "My grandfather escaped the Holocaust. The letters I found in his attic would change everything I thought I knew about it." The New Republic, October 24, 2014. https://newrepublic.com/article/119888/sarah-wildmans-paper-love-excerpt.
DISCUSSION QUESTIONS
Given his own limited circumstances, how difficult must it have been for Wildman's grandfather not to be able to help the many people who wrote asking for assistance? After the war, how did he use his determined optimism to counterbalance his tragic past?

To what extent do Valy's letters offer a personalized account of the horror of the Holocaust and the many indignities that Jews endured before being deported to extermination camps in Poland? How many similar stories have been lost to history?

As a journalist, what strategies did Wildman use to uncover Valerie's story? With the passage of time, how are the options for researching WWII narratives becoming more difficult?

After she completed her research, what did Wildman discover about her grandfather and the suffering he endured? How does understanding our family's past enrich our understanding of who we are and the family who came before us?